About IMPACT TRAINING SERVICES
Company Vision
"To meet the needs and realize the goals of all customers with an approach that stresses continuous consultation, feedback and improvement."
​
Listening to uncover the important issues
Creating and delivering appropriate courses
Providing insightful feedback and advice on applying learned English skills
Our Mission is threefold:
Improve students' ability to function in English in the global business environment.

Build students' confidence and assertiveness to contribute actively in meetings, negotiations and presentations.

Provide students with the skills and tools required for their specific job.
---
Courses and Services
All courses are tailored to student needs and are aligned with the requirements of stakeholders, such as managers, departments and company. Training options include:

• Modular courses for Small Groups (e.g. 16-20 weeks)
• 1-1 Business skills development coaching (20–40 weeks)
• Meeting skills
• Presentation skills
• Teleconference skills
• Cross-­cultural training
• E-­mail training
• Business / medical writing
• Professional Editing and Proofreading
---
Profile
January 1st 2013, Osaka, Japan
Mark Thompson (President)
16
Registered Office Address
Minami Suita 3-19-7 Suita City Osaka, Japan 564-0043
Company Profile
Impact is a specialist training services company. We have extensive experience in delivering flexible, tailored and personalized English training and coaching to a wide range of corporate clients in Japan.
Experience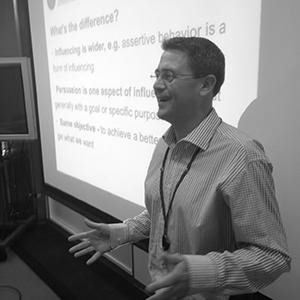 Mark Thompson
BA (Hons) Manchester Metropolitan University; Cambridge RSA TEFLA teaching license; Japanese Proficiency test Level 2, Institute of Sales and Marketing Diploma
2013 – Present
Founder and President: Impact Training Services
2000 ­‐ 2013
Business English trainer at multinational company in the pharmaceutical sector. Various courses including Medical Report Writing Skills, E‐mail for Business Skills, Meeting Skills, Assertiveness and Leadership, Teleconference Skills, Cross Cultural Workshop Facilitator, Presentation Skills
1992 ­‐ 2000
Business English trainer for clients in various industries, including Bayer, Fujisawa, Daiichi, Monsanto, Nissho Iwai, Santen, Fuji Electric and IBM Japan
1989 – 1992
Accounts Salesman: Pitney Bowes Plc. (UK): Institute of Sales and Marketing License
Edward Iftody
Senior business English Coach Impact
2004 – 2012
CEO of financial software company: PureLogix Corp.
2009 – 2012
Business English trainer for clients in various industries, including Nihon Schering, Bayer, Sekisui, Sumitomo, Monsanto and Mitsubishi
2012 March – 2013 December:
Trainer at AstraZeneca K.K. Various courses, including Assertive Meeting Skills (PaS), Teleconference Skills, Small
Groups Training and executive level one-­to‐one coaching.